During the last decades of the 19th century, various family and fashion magazines were accessible to the citizens of Serbia, sometimes in individual households, and to a greater extent at social gatherings – events and tailor shops. Starting from the beginning of the 20th century, the offerings of foreign fashion magazines could also be tracked through advertisements in print media. In 1909, the Gece Kona bookstore in Belgrade, through advertisements in the Politika newspaper, offered its readers 18 different French, German, and Viennese fashion magazines, including Die Modenwelt, Grosse Modenwelt, Der Bazar, Wiener Mode, Elegante Mode, Ilustrierte Frauenzeitung, La Mode Parisien, and others. Additionally, in 1912, L. M. Levenzon advertised as the representative for Serbia for as many as 74 imported fashion magazines.
Among the magazines that stood out during that time in Serbia with fashion themes was "Mali žurnal" (The Small Journal). It even had a special edition dedicated exclusively to fashion, which was titled "Pariska moda" (Parisian Fashion) and was published in 1902. Unfortunately, already in 1903, "Mali žurnal" announced that "Pariska moda" had ceased publication due to immense expenses. However, there was a strong desire to relaunch this fashion magazine, as many ladies and young women pledged to become consistent subscribers, unlike in the past when one subscribed and fifty relied on one issue.
The emergence of fashion magazines in Europe can be traced back to the 17th century. The French ruler Louis XIV, known as the Sun King, viewed fashion as a means to dominate European culture and actively encouraged the French fashion industry. His finance minister, Jean-Baptiste Colbert, famously stated that fashion was to France what Peruvian gold mines were to Spain. In France, from 1672 to 1832, one of the oldest fashion magazines, "Le Mercure galant," was published. It was founded and edited by writer and historian Jean Donneau de Visé.
During the time of the French Revolution, which temporarily disrupted the flow of French fashion, Germany also emerged as a publishing center for fashion magazines. The oldest German fashion magazine, "Journal des Luxus und der Moden," was published in Weimar from 1786 to 1826, with its first publisher being Friedrich Justin Bertuch. Naturally, fashion in France soon reestablished its dominance, and the publication of fashion magazines continued. The fashion magazine "Journal des Dames et des Modes," with its first editor being Professor Pierre de La Mesangère, was published in Paris from 1797 to 1839.
One of the publications that continued the German tradition of producing high-quality fashion magazines in the 19th century was "Die Modenwelt: die Illustrierte Zeitung für Toilette und Handarbeiten" (The Fashion World: Illustrated Newspaper for Dress and Handicrafts). Founded by Franz von Lipperheide in Berlin in 1865, this magazine quickly achieved great success, being published in various countries in as many as 14 languages. It boasted the highest circulation among fashion magazines of that time and was even sold in Brazil.
In the pages of "Die Modenwelt," a magazine well-read in Serbia, fashion illustrations accompanied by pattern sheets were published. This facilitated ordering clothing in the latest fashion from skilled local craftsmen. Examples of fashion illustrations and pattern sheets from "Die Modenwelt" are preserved today in the Museum of Applied Arts in Belgrade and the Subotica City Museum.
A significant leap in the history of fashion print was made by publisher Lucien Vogel when, in 1912, he began publishing "Gazette du bon ton" in Paris. This highly influential fashion magazine continued to be published even after World War I. Viewing fashion as a representative form of visual art, Vogel engaged a group of young artists, many of whom were educated at the École des Beaux Arts in Paris, including Paul Iribe and George Barbier, to create illustrations for the new magazine.
In modern Europe and Serbia, fashion print played a crucial role in conveying information about contemporary fashion trends. Holding a prominent place among various books, magazines, and newspapers, whose expanded production marked the development of European society from the 18th century onward, fashion print contributed to the formation of civil society and public opinion. It emphasized the significance of fashion in shaping the visual identity of citizens.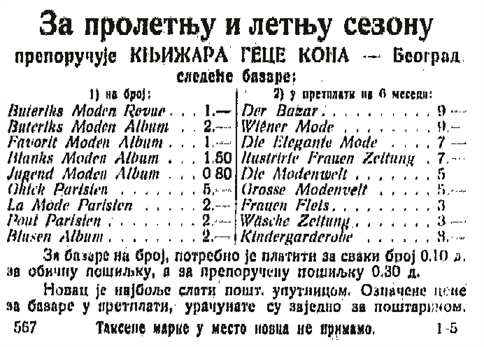 Advertisement of the Gece Kon bookshop for foreign fashion magazines, Politika, Belgrade, March 8, 1909.
Advertisement by L. M. Levenzon for imported fashion magazines, Politika, Belgrade, April 13, 1912.
Front page of the magazine Pariska moda, Belgrade, July 14, 1902.
Front page of Die Modenwelt, 1911, photo: Wikimedia Commons / Public domain
Georges Barbier, illustration for the Gazette du bon ton, 1914; photo: Wikimedia archive / CC0 1.0/ Rijksmuseum, Amsterdam