"I have always believed that true style is not just about the clothes you wear, but the confidence and personality you exude while wearing them." – Pino Lerario
Tagliatore's essence lies in its timeless elegance, expert craftsmanship, and the fusion of traditional tailoring with a contemporary flair. The brand embodies sophistication and self-assurance, offering impeccable garments that empower individuals to express their unique style with confidence.
The history of the Tagliatore fashion brand dates back to the 1980s when it was founded by Pino Lerario in Martina Franca, a town in Puglia, Italy. With a passion for classic tailoring and a vision for modern elegance, Lerario established Tagliatore as a luxury menswear brand with a focus on expert craftsmanship and attention to detail. The brand quickly gained recognition for its sophisticated blazers, impeccably tailored suits, and elegant outerwear, which combined traditional Italian techniques with contemporary designs. Over the years, Tagliatore expanded its product range to include accessories and continued to be celebrated for its ability to blend timeless style with a modern sensibility, cementing its place as a prominent name in the world of high-end men's fashion.
Tagliatore's iconic blazer is a symbol of meticulous craftsmanship, showcasing the brand's commitment to using premium fabrics and traditional Italian tailoring techniques. The blazer's impeccable fit, elegant detailing, and luxurious materials elevate it to a timeless and sophisticated wardrobe essential. With a perfect blend of classic and contemporary design elements, the Tagliatore blazer remains a sought-after and versatile piece, epitomizing refined style and high-end menswear aesthetics.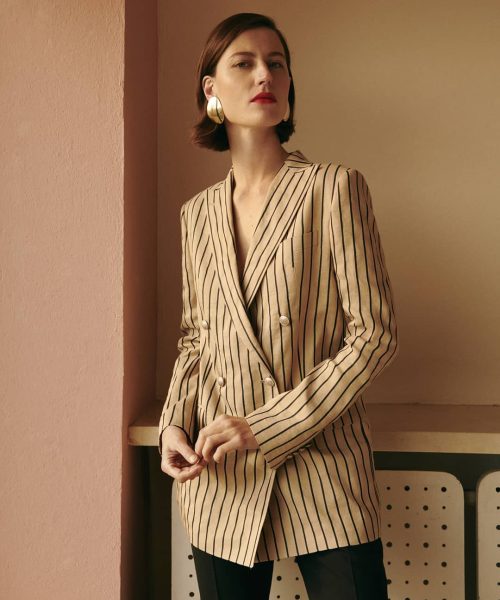 Tagliatore's iconic outerwear collection exudes a sense of timeless sophistication and luxury. The brand's expertise in selecting premium fabrics, such as cashmere, wool, and fine blends, ensures the outerwear's exceptional quality and comfort. The outerwear pieces often feature elegant silhouettes, intricate detailing, and impeccable craftsmanship, making them stand out as statement pieces in any wardrobe. Whether it's a classic coat or a contemporary jacket, Tagliatore's iconic outerwear embodies a perfect fusion of Italian heritage and modern design, appealing to discerning fashion enthusiasts seeking refined and stylish pieces for any occasion.
Tagliatore is revered for its masterfully constructed suits that perfectly combine traditional Italian tailoring with contemporary elements. The suits showcase impeccable craftsmanship and are favored by those seeking refined and polished attire.
In the heart of Puglia, Tagliatore's artisans found inspiration in the region's colors, scents, and innate elegance. They revolutionized jackets with wide lapels and slim fits, blending sophisticated color combinations. Each garment became a tale of meticulous craftsmanship, capturing the essence of Puglia's beauty and culture. The art of craftsmanship of the fashion brand Tagliatore is characterized by meticulous attention to detail and a commitment to traditional tailoring techniques. Each garment is expertly crafted by skilled artisans who take pride in their workmanship, ensuring the highest level of quality. The brand's dedication to using luxurious fabrics and precise cuts results in garments that exude timeless elegance and sophistication, showcasing the brand's mastery in creating impeccable menswear pieces that stand the test of time.