SVEVO Parma je poznati luksuzni modni brend za svoju izuzetnu trikotažu od 1892. godine, sa fokusom na vrhunsku izradu i njihov bezvremenski dizajn koji spaja klasičnu eleganciju sa modernom sofisticiranošću.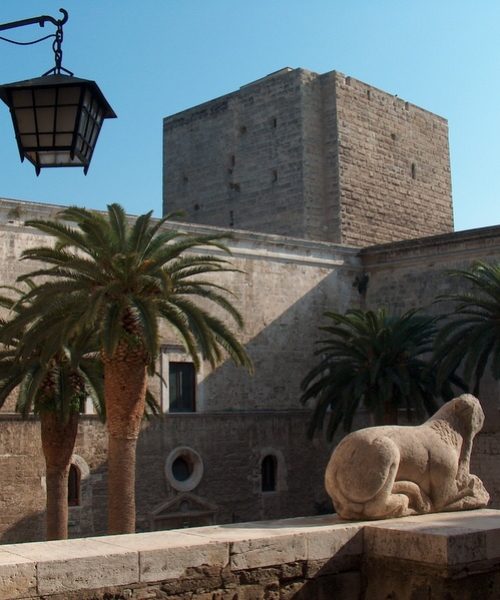 The SVEVO brand has deep roots in the Somma family's knitwear manufacturing history. Founded by Nicola Somma in 1892, the brand draws inspiration from city of Bari's Norman-Swabian Castle. Nicola established a chain of knitwear stores in Bari, creating a renowned Italian company that upholds values of quality and authenticity. In 1955, his son Mario founded the first SVEVO knitwear factory, renowned for its craftsmanship by local artisans. Nicola expanded the brand in 1958 to include women's knitwear, described as classic, delicate, and of incomparable strength. In the early '90s, Nicola, together with his children Mario and Victoria, launched a new production unit in Fidenza, reinforcing the brand's position in the international luxury market.
SVEVO embraces the challenge of balancing tradition and progress while ensuring exceptional quality and comfort. Guided by the fourth generation, Mario and Victoria, SVEVO preserves the brand's unique heritage.
SVEVO's style icon: the "must-have" for every man's wardrobe. Timeless, understated, and effortlessly lightweight, in a range of innovative materials, captivating colors and patterns. With its refined and minimalist design, it showcases impeccable craftsmanship, with meticulous hand-sewn details that ensure an impeccable fit and a distinctly contemporary flair.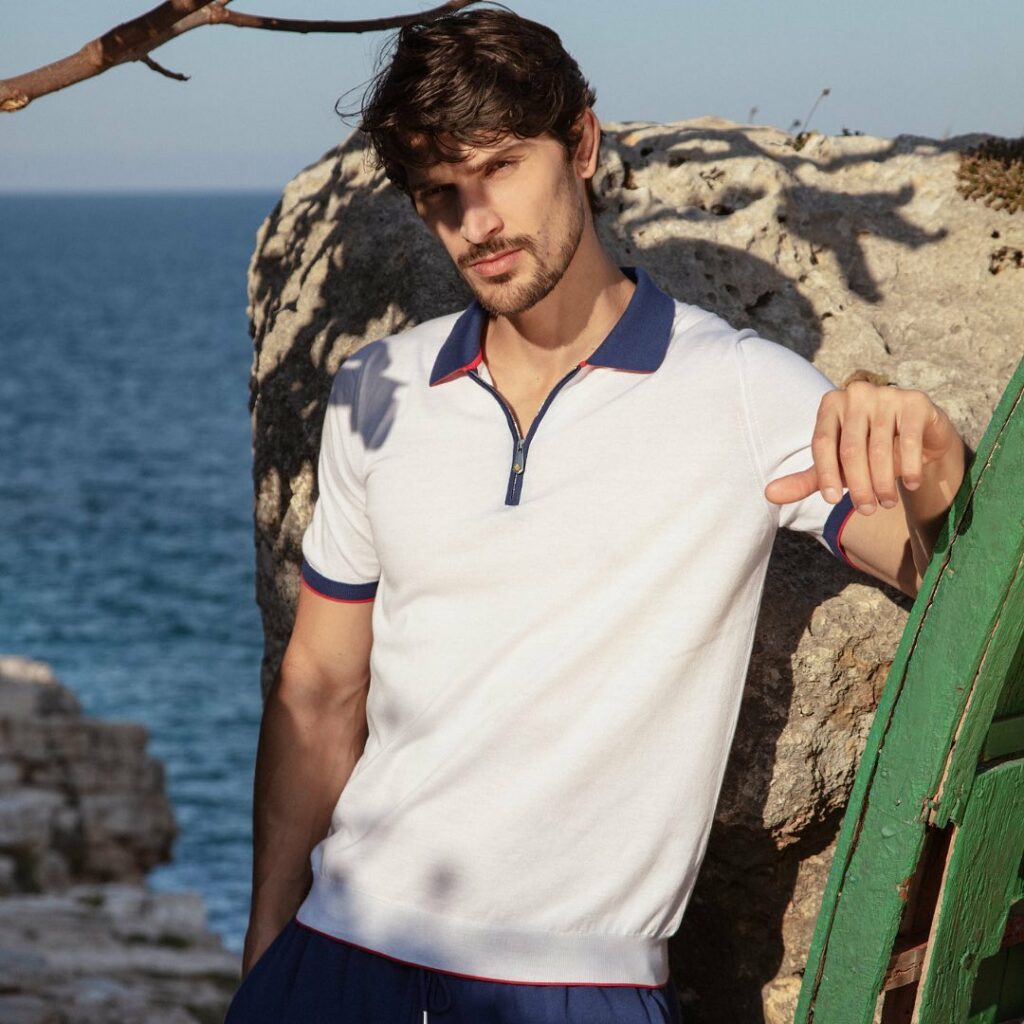 SVEVO's signature: the discreet eyeholes positioned on the lower back, a symbol of genuineness. In the weaving process, every garment is meticulously crafted with small eyeholes on the back, their quantity varying based on size, starting with a single eyehole for size 46. This authentic trademark guarantees that you are donning an original SVEVO piece, even in cases where the label may be absent or lost.
Jakna inspirisana klasičnim odelima sa dvorednim kopčanjem. Ovaj premijum komad garderobe se nosi kao jakna i kao kardigan, a prilagodljiv je različitim sezonama. Izrađena je od luksuznih materijala, od toplih tkanina tokom zime i laganih, prozračnih za leto. Sofisticirani dugmići sa SVEVO logom izrađeni laserom daju posebnu notu elegancije.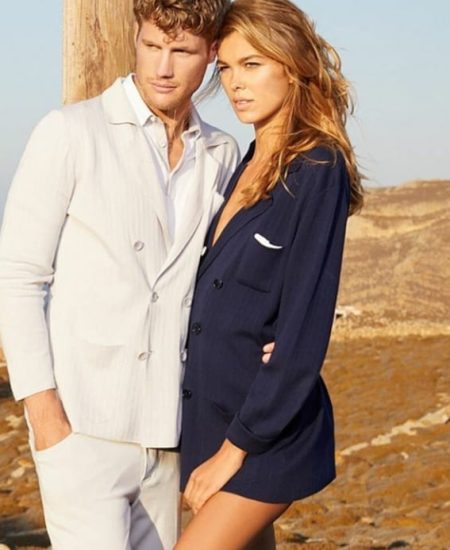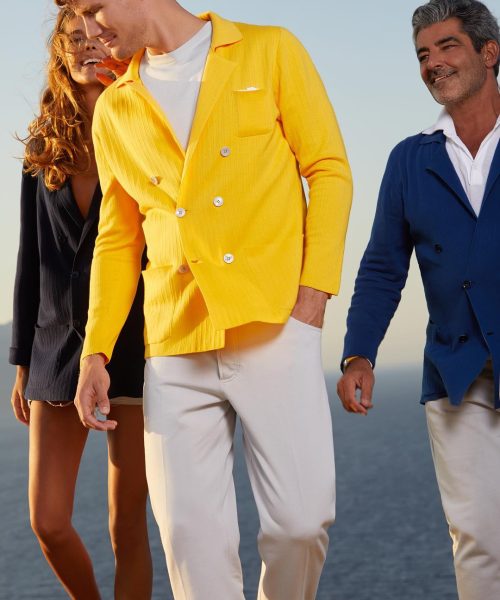 The knitted 5-pocket pants
Showing a casual yet refined style, the traditional 5-pocket model embodies timeless appeal. Meticulously crafted on the loom, it showcases a clean-cut and comfortable fit. This versatile piece seamlessly complements any SVEVO garment, offering a soft and multi-functional addition to ones in the wardrobe.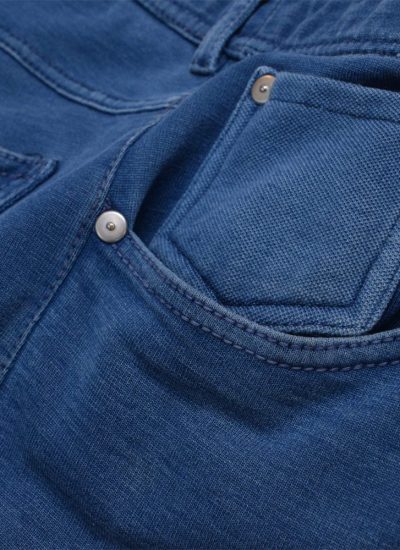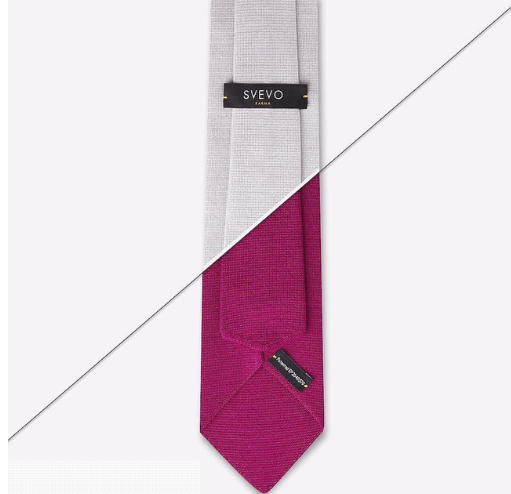 SVEVO's renowned 5-fold necktie, distinguished by its patented construction and weaving technique. Handcrafted at the esteemed Fidenza facility, this vital element of the male wardrobe undergoes a meticulous manual process on vintage looms, resulting in a product of exceptional quality, finesse, and lightweight design.
SVEVO's knitwear combines artisanal expertise and innovation, with each garment undergoing a meticulous production cycle of at least 22 stages, over half of which are executed by hand. Noble and natural fibers like cashmere, silk, merino wool, and premium cotton are woven on unique British Bentley looms, ensuring exceptional quality and attention to detail. Skilled artisans closely monitor the process, from optimizing yarn quality to assembling garment parts and performing precise cuts.
The garments undergo thorough inspection, tailored stitching, and meticulous finishing procedures. After drying and ironing, they are carefully folded and packaged in sleek SVEVO packaging with informative labels highlighting their supreme quality and manufacturing techniques. Limited editions are recognized for their exceptional craftsmanship and enduring excellence.