The French Revolution swept away the opulent, aristocratic men's fashion of the 18th century from the European stage. Bright colors, embroidery, lace, ruffles, and cuffs made way for a new, elegant, and understated men's suit of the 19th century. This suit evolved from the clothing worn by the English aristocracy, who spent a considerable amount of time hunting and tending to their estates, necessitating practical attire. Consequently, England, which had positioned itself as the hub of European men's fashion in the 18th century, retained this status in the following period, with Italy joining in from the mid-20th century.
The men's suit of the 19th century not only expressed the new, modern values of civil society but also set the standards for classic men's elegance that persist to this day – impeccable tailoring, the appropriate choice of shapes, colors, and high-quality fabrics for specific occasions. Changes in men's fashion, unlike the dynamic shifts in women's fashion silhouettes, can be traced through various subtle details – the length and cut of the jacket, its method of fastening, the number and arrangement of buttons, the shape and dimensions of lapels and collars, the number and arrangement of pockets, and the cut of trousers.
This shift in men's fashion also occurred in Serbia during the 19th century, where European men's attire replaced the vibrant clothing of the previous era, characterized by layered Ottoman-Balkan urban garments in vivid colors, adorned with rich embroidery and trimmings. Since the 1840s, numerous advertisements for men's tailors have appeared in the Serbian press. In the late 19th and early 20th centuries, respected tailors such as Marko Petronijević, Lazarević, Jovanović, Sudarević, and Savković operated in Belgrade. Their activities, owing to the high quality and a large number of clients, can be traced through advertisements over an extended period.
Marko Petronijević, a tailor born in Obrenovac, opened his shop on Kneza Mihaila Street in 1881. His concise and measured advertisements, sometimes published in French, indicate that he and his clients valued expert tailoring and a wide selection of high-quality fabrics with current fashion patterns from England and France. Trifun Jovanović, born in Vranje, learned the tailoring trade from Petronijević and then worked in Germany, completing his tailoring education in Vienna.
At the end of the 19th century, tailor-made clothing for women, known as "tailor made," entered the fashion scene – women's costumes tailored along the same principles and from similar materials as men's suits. Such clothing, adapted to modern lifestyles and a greater variety of outdoor activities, soon became available in Belgrade tailoring salons. Men's tailor Života Lazarević, born in Paraćin, who had worked for many years in leading and trendsetting tailoring shops in Vienna, Berlin, Paris, London, and Petrograd, opened his shop in 1902 at the corner of Balkanska and Kraljice Natalije streets. In advertisements in the Mali Žurnal newspaper, he announced that, in addition to men's suits made to the latest patterns and finest fabrics, he had mastered the art of creating the most modern women's costumes known as "Genre Tailleur."
Života Lazarević and Trifun Jovanović co-founded the tailoring shop Lazarević and Jovanović on Kneza Mihaila Street in 1903. In the interwar period, they crafted an enviable reputation for the high standards of their men's suits. In 1923, they crowned their business success with the construction of the renowned Hotel Splendid in Belgrade, whose building still stands in close proximity to the City Assembly of Belgrade today.
Between the two World Wars, a significant place among the creators of Belgrade's fashion scene was held by the men's tailoring salon Sudarević and Savković. It was located on Topličin Venac, in the Čelebonović Palace, which now houses the Museum of Applied Arts. The museum's collection preserves a tailcoat and two jackets made in this salon. Co-owner Nikola Sudarević, in addition to being a master tailor, was also involved in music. He composed choral songs and a liturgy that was performed in Šabac, and he sang in the choir of the Belgrade Opera for a long time. Sudarević was elected as a member of the examination board for master's exams in the Tailors Section of the Craftsmen's Association. Reflecting on Sudarević's penchant for music, a journalist for the Nedeljne Ilustracije newspaper concluded in 1929 that he was an artist in tailoring and an amateur musician, demonstrating that the tailoring craft is an art and that we are not behind Paris because we have great tailors who are also artists.
Written by Draginja Maskareli
Museum Advisor – Art and Fashion Historian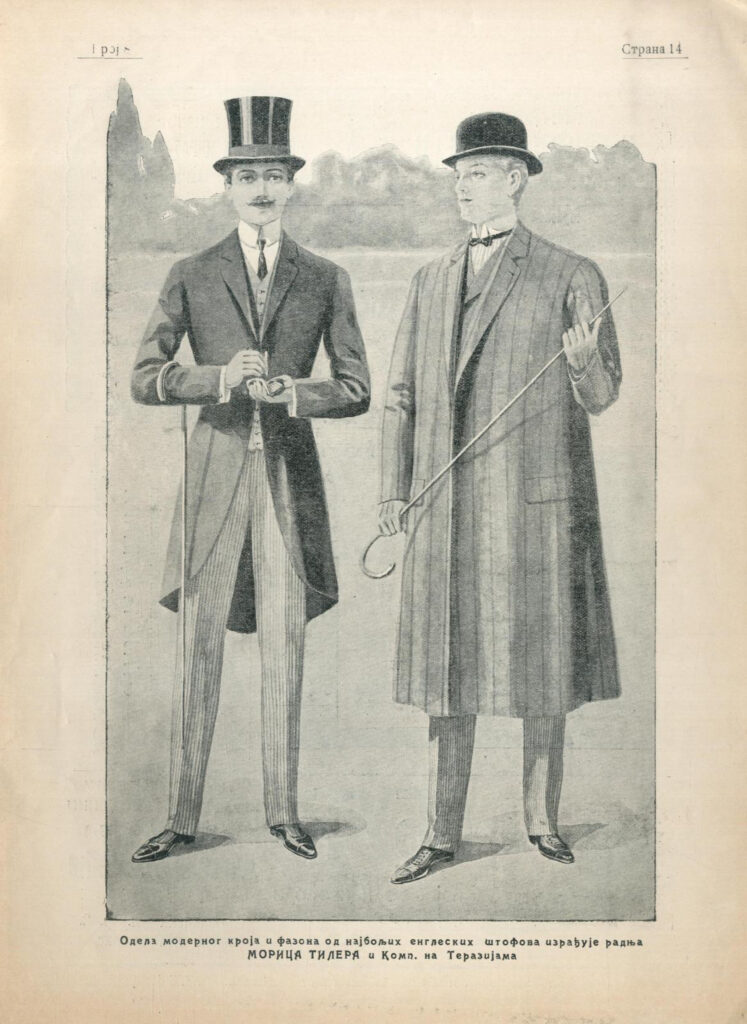 Images:
Fashion Illustration, Nedelja: Illustrated Weekly Magazine, Belgrade, February 28, 1910.
Men's and Women's Fashion in Belgrade (laying the foundation stone of the Administration of Funds building, today's National Museum of Serbia), Belgrade, April 13, 1903. Photo: Wikimedia Commons / CC BY-SA 3.0 / Historical Archives of Belgrade.
Advertisement for men's tailor Marko Petronijević, Trade and Craft Schematism of the Kingdom of Serbia, Belgrade, 1905.
Advertisement for men's tailor Života Lazarević, Mali Žurnal, Belgrade, August 14, 1902.
"How Should a Gentleman Dress?" An interview with men's tailor Nikola Sudarević, Nedeljne Ilustracije, Belgrade, April 28, 1929.